Warlock of Firetop Mountain: The Roguelike
A downloadable Roguelike for Windows
This is a roguelike adaptation of the adventure gamebook The Warlock Of Firetop Mountain, written by Steve Jackson and Ian Livingstone.
About
Deep in the caverns beneath Firetop Mountain lies an untold wealth of treasure, guarded by a powerful Warlock, or so the rumour goes. Several adventurers like yourself have set off for Firetop Mountain in search of the Warlock's hoard. None have ever returned. Do you dare follow them?

You take the role of an adventurer on a quest to find the treasure of a powerful Warlock, hidden deep within Firetop Mountain. People from a nearby village advise that the treasure is stored in a chest with two locks, and that the keys are guarded by various creatures within the dungeons. You approach the shadow of the great mountain and prepare you weapons.

The local villages have warned you that the entrance is well guarded and you expect it no other way...

Good luck!
Features
roguelike world
fighting fantasy combat
keys, treasure, weapons, armour, magic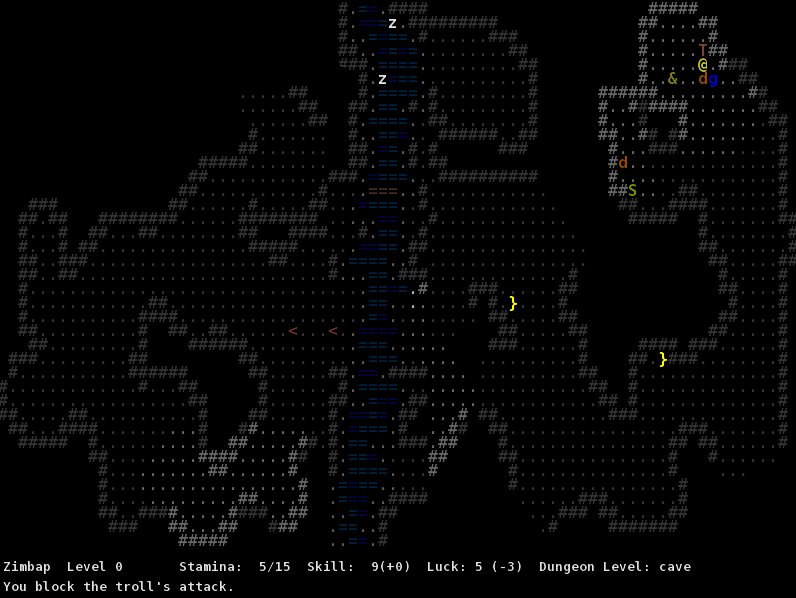 Key Commands
Press '?' for in game help.
Download
Click download now to get access to the following files:
WOFM1.0.0 -RC7c-win32-bin.zip
652 kB
Comments
Log in with itch.io to leave a comment.
controls would be nice i have no idea how to pick stuff u
Press '?' for in game help or read Readme.txt file.
Cheers